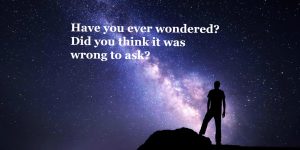 Something to consider on your weekend break from Sue Monk Kidd….reading from "When the Heart Waits".
"One way we coax the life of the new self is by living with the questions that inhabit our dark night… I lived with questions about who I had been, who I was becoming, and about whether the growth was worth the pain, risk, and upheaval. I lived with questions about how to adapt parts of myself that I had orphaned, how to heal old wounds, how to relate to an expanding vision of God and the world.
I didn't like the disorder and anxiety the questions produced, and I didn't like the unknowing. We are trained to answer questions, and if we can't answer them, to ignore them. I once saw a poster on a wall (Virginia Satir)..'Most people prefer the certainty of misery to the misery of uncertainty.' That's worth pondering.
Living with questions can indeed be a miserable experience. We like things fixed, figured out, and nailed down, even if that means being nailed to a false and static existence. Questions terrify us, because they're like hammers prying up the nails.
People who want life hammered down into tight, legalistic certainties seem to me to be the people most insecure inside. Frankly, the folks who frighten me the most are those who are dead certain about everything, who have all the answers and no questions…
The most exciting people in my life are those who punctuate life with questions as frequently as periods."
Don't ever be afraid to ask questions…ask and it shall be opened, seek and you shall find. Enjoy your adventure and have a great weekend.